5 ski experiences you should add to your bucket list
When choosing your next skiing holiday there are usually two main decisions you face; one is which designer ski thermals to pack and the other is which one of your bucket list locations to choose from. Picking your ladies designer thermals is easy with S'No Queen, but as there are 97 countries across the world that offer skiing and snowboarding activities we have put together our top lifetime ski experiences to help you choose.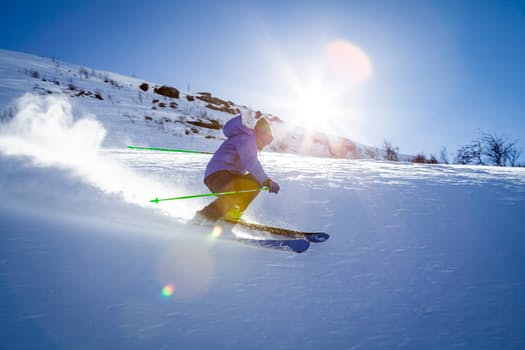 Skiing adventures in Alaska
For incredible alpine scenery and breathtaking views, there is nothing that can compare a heli-ski adventure in Alaska. The Alaska ranges have been made famous by extreme ski and snowboard films, which make it a popular location to visit all year round.
Heli-skiing and snowboarding in Alaska are the ultimate freeriding adventure. The smooth terrain and epic snowfall will guarantee an adrenaline rush like no other snow experience has ever done before. There are a large amount of heli-ski operators across the Alaskan ranges that run singles days as well as multiple day trips.
Alaska Heli-ski runs are long, so you will get lots of skiing mileage during your trip, much more than other ranges in North America. Resorts in Alaska receive huge amounts of snow, with the highest parts of the mountains averaging 20-25m per season so make sure your wrap up warm during your holiday in our ladies designer thermals.
Stunning landscapes in Finland
Skiing in Finland is unlike any other Alpine ski holiday. If you want to ski in breathtaking scenery surrounded by ice-sculpted forests and frozen lakes, coupled with uncrowded pistes and resorts, a ski holiday in your designer thermals to Finland offers you a very refreshing alternative.
Skiing in Finland is varied as it has a variety of runs to suit all abilities, but the ski areas are smaller than what we are used to in the Alps and ideally suited to beginners and intermediates.
One of the positives about visiting Finland is the chance to experience reindeer safaris or the husky dog sledding trips. These are two of our favourite lifetime ski experiences that we could recommend.
Luxury skiing in France
France is well known for its passion and romance, but it's also known for its best-stocked wine cellars, gourmet cuisine, private cinemas, chauffeurs, outdoor hot-tubs and luxury chalets, which allow you to unlock your inner S'No Queen and get pampered to the max.
Good food is an essential part of a luxury ski holiday. The talented chefs are experienced and creative artists, producing modern and traditional cuisine to tantalise your taste buds. Everything in the luxury ski chalets is designed to make you feel relaxed, pampered and special, just like a S'No Queen should be.
Val d'Isere offers one of the world's best ski areas, along with accommodation to suit everyone. If you are looking for a luxury chalet then look no further than Chalet Lafitenia, run by Val d'Isere's most exclusive chalet operator and offering the standards of accommodation. The food and service here is everything you would expect from a luxury chalet in a world class resort.
Everyone deserves a spot of luxury in their lives which is why France is a location you must visit in your luxury ski thermals.
Visit Japan for the deepest snow
You may find it surprising that ski resorts in Japan get some of the deepest snow in the world. Niseko is one of the most famous ski resorts in Japan, with an average of 11m of snowfall each year.
Niseko is made up of five interlinked areas, Annapuri, Higashiyama, Hirafu, Hanazono & Moiwa. Hirafu is the main resort where you will find the majority of the town and accommodation.
The terrain at Niseko is varied; the main ski area offers great 'ski-what-you-can-see' terrain with easy to access to fun off piste between the main ski runs. The legendary tree runs are in the strawberry fields and Miharashi with steep runs at the super alpine course and under the Kogen gondola.
There may be lots of snowfall in Niseko but bad weather doesn't have to mean bad visibility with the bounty of tree runs and off piste forests to ski through. If you are lucky enough to get a clear day on the hill then you can take in the stunning view of Mount Yotei and views of the ocean if you get high enough.
If you live for powder days and dream about stunning white snowscapes that your favourite skiers and snowboarders go year after year, then start planning your trip to one of the lifetime ski experiences we have selected above for your next skiing holiday.