Travel in style on a Train fit for a S'no Queen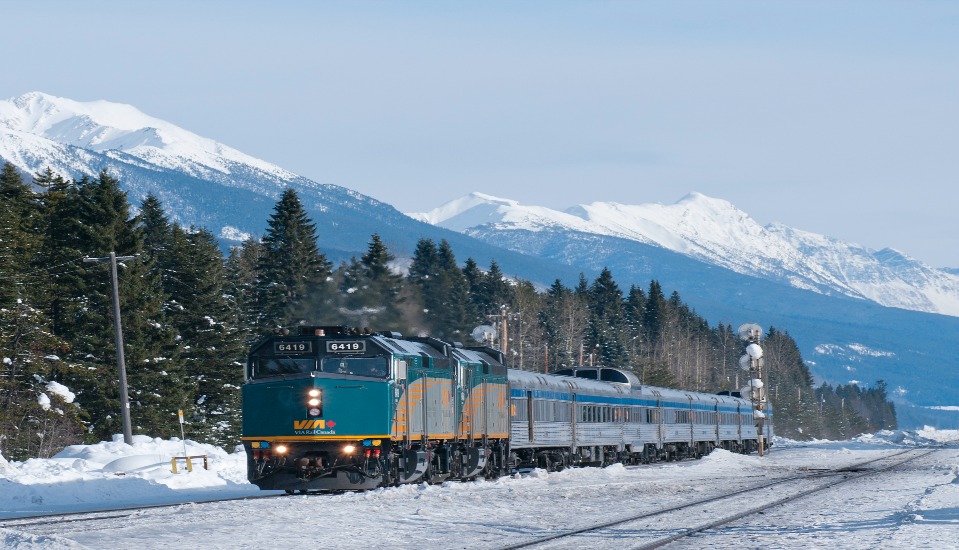 Every year ski season comes around and we all want to just leave it all behind and flock to the Alps. However, it always seems as though we have to endure long journeys with so many things going wrong and it all seems like a lot of hassle.
However, is there a hassle free alternative to flying? We believe so and have put together five reasons why getting the train to the Alps may workout better for you this ski season.
Less Stress
When you are travelling by plane you may worry about various things such as transfers, getting to the airport on time, making sure your bags pass customs, hoping your bags are on the other end and even the unnecessarily slog across the whole terminal because you have to check your ski's in elsewhere.
Getting a train eliminates all this as all you do is simply turn up at the station roughly when you're meant to leave (if you're late they change you to the next available train for free). Hand your bags into customs and board the train. You can unload all of your bags in one place and simply sit bag on the train and relax until you reach your destination, the complimentary wine, high quality cuisine and ambient environment are quite literally the opposite of a stressful environment and keep you calm and relaxed throughout your journey.
It's Faster
Door to door, the train usually works out  quicker than flying. This means that instead of standing around wasting time and fiddling with long security procedures in airports or having long waits to board, you can simply board your train and sit down relaxing for the duration of your journey.
It also means that delays will not affect you as much as when you are flying, you may have to give time for traffic or there could be traffic on the other end of your flight on route to the resort. The train combats all this by simply allowing you to board at your local station and transfer elsewhere before getting off the train at the nearest station to your ski resort. Moreover, if you are late for the train for whatever reason, they do not mind so long as you let them know so they can put you on the next train.
Unlimited Weight and Virtually No Size Restriction
When you are packing all of your S'no queen essentials, you may find that you need another bag for your outer layers; you may even have too many shoes and not be able to fit them all in one case. This is bound to cause issues if you are travelling to the Alps by plane, mainly as there are strong restrictions on sizing and charges for going over.
When you are travelling by train to a ski resort, the baggage issue is no longer a huge issue. This is primarily as there are no weight restrictions and your case is can be anything up to 85 cm in diameter. Moreover, you have the option to take two of these huge cases, one piece of hand luggage and even your skis or a snowboard. Then if you go over that, there is only a twenty-pound charge per huge case.
That is so much luggage we think it might be difficult to go over the limit on it.
Better Scenery
When you are on the train whizzing through the mountains and snow capped peaks, them views looks so much more beautiful then when you are seeing it from above at 500 mph. The view from above is sometimes cloudy and may only be able to see a sheet of white at certain times of the ski season.
However, on the train you can see the endless European black forest, the snow capped peaks with the small picturesque villages littering the slopes and vast glistening gorges. The views are a lot more enjoyable and closer to you allowing you to see their beauty in more detail.
A Lot Cheaper
The trains offer a lot more benefit for a smaller price.  This means that although you will be getting all of the benefits above, you will be getting them at a lower price. The train journey is also a more inclusive cost that consists of baggage, food, drink, and taxes all within the price where as plane journeys tend to be discrete with costs.
The train journey has only two extra costs:
If you were to have more than two 85 cm bags, one hand luggage and one snowboard then you may have to pay 20 pound to take more luggage. Although taking this much luggage would be difficult as it is.
If you want to have a quiet, relaxing alcoholic beverage onboard then you may have to pay for your second drink onboard, however your first drink is complimentary and you are allowed to bring your own.
With these being the only two hidden costs and even then they are unlikely and completely optional, the train comes well when placed against the hidden costs to flying to the Alps this winter;
There are sometimes airlines that quote prices before including taxes, these taxes range from airport tax, EU levy and even the service charge.
There are booking and card processing fees to be careful of when booking your flight online or at the airport.
Baggage charges if your hand luggage is too large or weighs too much, the same baggage charges don't exist on the Eurostar
Food and drink onboard your flight has a steep cost, Ryan Air meals more often than not cost more than half of the price of the ticket you bought for the flight according to a survey in 2012.
With all this in mind, it becomes clear that the train alternative comes in at a lot cheaper.
Comparison
When it comes to comparing the train journey to the Alps with the plane journey, there is going to be obvious benefits to air travel as well. These could range from buying things duty free to being able to have that experience of waking up early in a brisk morning and travelling to the airport.
With this in mind, it is understandable that some people may wish to travel by plane this ski season. However, with all the benefits given to you by S'no Queen it is certainly worth considering the alternative and trying it for yourself.