At S'No Queen we know a Little known fact: that winter is the season for drinking. You're stuck inside all the time, the festive period is almost amongst us, and you're sad that it's not sunny outside. So to lighten up the winter mood and raise your spirits, here are some cocktails that will act as a warm pick-me-up all winter long.
SPELLBOUND SMASH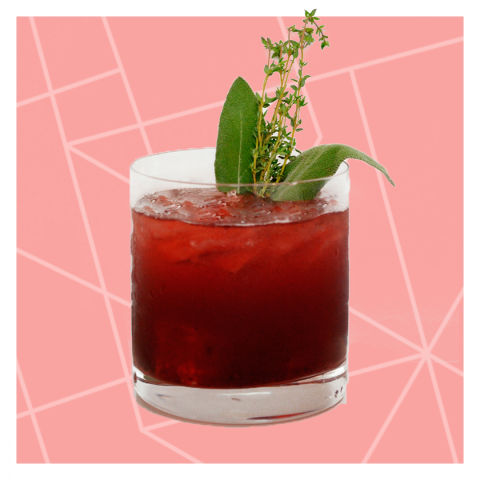 Ingredients:
2 parts Basil Hayden's® Bourbon
¾ part Demerara Syrup*
2 dashes Angostura® Bitters
2 dashes Orange Bitters
Half of a Lemon
5 Fresh Blackberries
3 Sage Leaves (2 for garnish)
1 sprig of Thyme (for garnish)
Directions:
Place half of a lemon and the blackberries into a cocktail shaker and lightly press with the back of a bar spoon. Add remaining ingredients, including one sage leaf, to cocktail shaker with ice and shake vigorously. Strain into a rocks glass over ice. Garnish with remaining two sage leaves and a sprig of thyme.
CHILI CHOCOLATE SOMBRERO
Ingredients:
1 part Kahlua Chili Chocolate
Poured Milk
Directions:
Pour milk over 1 part Kahlúa Chili Chocolate, then simply taste and enjoy!
Courtesy of Kahlúa Chili Chocolate
THE MUMM APRES ROUGE
Ingredients:
3 oz G.H. Mumm Champagne
3/4 Simple Syrup (1:1 ratio of cane sugar to water)
3/4 oz. Lime Juice
2 Cucumber Slices
4 Mint Leaves
1/4 oz. Ginger Juice
1 oz. Pomegranate Juice
Sprig of Mint, for garnish
WINTER ELIXIR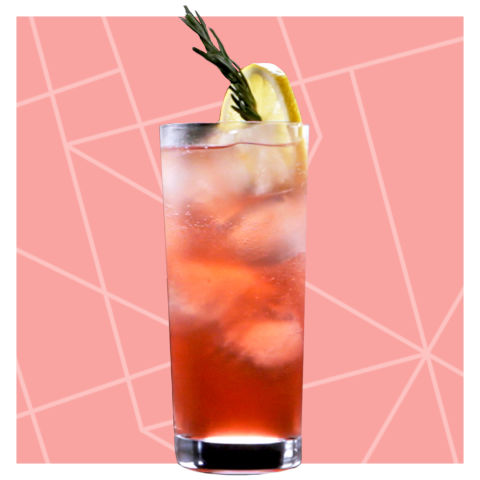 Ingredients:
1 1/2 oz. VDKA 6100®
1 sprig Rosemary
3/4 oz. Simple Syrup
1/2 oz. Fresh Lemon Juice
3/4 oz. Pomegranate Juice
2 oz. Soda
Lemon Wheel and Rosemary Sprig, for garnish
Directions:
Muddle the rosemary and simple syrup in a mixing glass. Add lemon juice, pomegranate juice, and VDKA 6100. Shake and strain into a highball glass, then top with soda. Garnish with a lemon wheel and rosemary sprig.
BLACK SAGE
Ingredients:
1 Part Coffee Liqueur
1 Part Black Raspberry Sparkling Ice
A Splash of Heavy Cream
Sage Leaf, for garnish
Directions:
Mix coffee liqueur and Black Raspberry Sparkling Ice in cocktail glass. Just before serving, gently add cream and garnish with a sage leaf.
GINGERSNAP
Ingredients:
2 oz. Cointreau
1 oz. Fresh Lime Juice
1/4 oz. Cinnamon Syrup
2 Slices Muddled Ginger (quarter sized)
2 Dashes Angostura Bitters
Egg White (optional)
Directions:
Combine ingredients in a shaker. Shake will with ice. Strain into a cocktail glass. Garnish with two slices of candied ginger.
POM HOLIDAY SPARKLER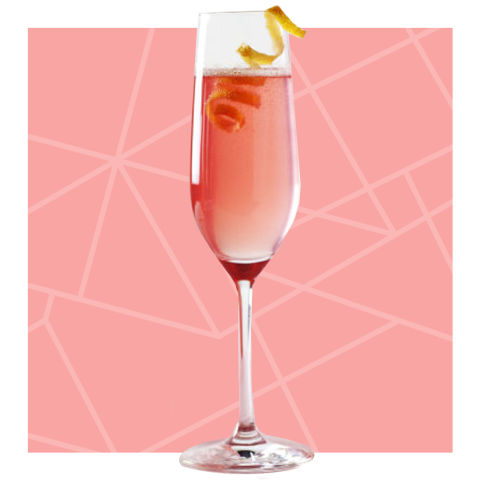 Ingredients:
4 oz. Brut Rosé Champagne or Dry Rosé Sparkling Wine
2 oz. Pomegranate Juice
2-3 dashes Orange Bitters
Orange Peel
Directions:
In a champagne flute, combine champagne and orange bitters. Fill glass with pomegranate juice. Twist the orange over the top of the glass, then drop the peel into the drink.
THYME GIN TONIC
Ingredients:
6 oz. Q Tonic
2 oz. Gin
Four Sprigs of Thyme
Directions:
Add gin to a cocktail shaker. Place three sprigs of thyme in it. Gentle muddle the thyme. Add ice and shake. Strain into an ice-filled high ball glass and garnish with a lime and sprig of thyme.
SNOW BUNNY
Ingredients:
2 parts Absolut Elyx
1 part Kahlua
0.5 part White Creme de Cacao
2 parts Half and Half
Directions:
Combine ingredients together in a cocktail shaker over ice. Shake hard until ice cold. Strain into a rocks glass over fresh ice. Garnish with freshly ground nutmeg.
CAFÉ ALA MEXICANA
Ingredients:
1 1/2 parts Milagro Ańejo
3/4 parts Ancho Reyes Chili Liqueur
4 parts Fresh Brewed Coffee
1 tsp. Brown Sugar
1 part Heavy Cream
Coffee Beans, for garnish
MERRY THYME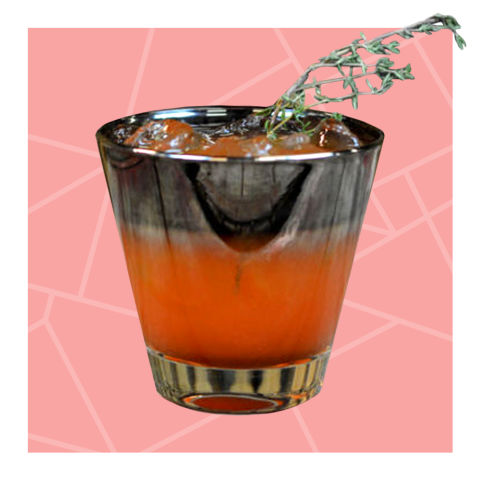 To prep this cocktail, start by making syrup:
Ingredients:
1 cup Palm Sugar
1 cup Water
6 Sprigs of Thyme
Directions:
Boil all ingredients and then simmer for 15 minutes, stirring occasionally until sugar is dissolved, then strain and cool.
As for the drink:
Ingredients:
1 1/2 oz. KOVAL Bourbon
1/4 oz. Thyme Palm Syrup
Blood Orange Soda, to taste
Directions:
Add the bourbon and syrup to an ice-filled glass. Top with blood orange soda and garnish with a sprig of thyme.
THE NUTTY NEIGE
Ingredients:
1 part QUI Tequila
½ part Averna Amaro
½ part Candied Pecan Syrup
½ part Aperol
¼ part Campari
Grapefruit Twist, for garnish
Directions:
Combine all ingredients into mixing glass, fill with ice, and stir for 10 seconds. Pour into a rocks glass with a large ice cube and garnish with grapefruit twist and pecan.
Created by Cody Goldstein, Founder of Muddling Memories and Head Bartender at Upholstery Store: Food and Wine
Now you have all the recipes you need for a great Christmas you can chill out in your winter thermals and enjoy a nice cocktail