The Jump episode 3 – Slaloms and Substitutes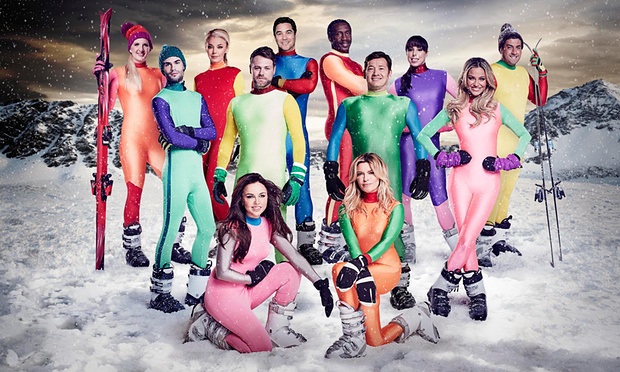 This weeks episode of The Jump was anticipated from the controversy surrounding celebrity injuries, many people called The Jump too dangerous whilst professionals and celebrities stood up in support.
Channel 4 responded by adding extra safety measures and double checking everything in place but with Linford Christie officially leaving the show and Mark Francis, they had used up all their substitutes and James (Arg) Argent was brought back after being eliminated last week. They also brought back the controversial Heather Mills to take the place of Olympian Rebecca Adlington.
The original line up looks sparse with so many celebrity contestants out or substituted, we were thankful to have the charismatic and down to earth Arg substituted back in as he always adds humour to the viewing.
Slalom
This weeks event was the parallel slalom, a more traditional winter sport than the cross ski or the skeleton but the steep hill for the slalom looked incredibly scary.
The coaches had worked hard with each contestant preparing them for the course and looking after their safety.
Joe Swash was substituted in but still sustained a shoulder injury, however he managed to compete albeit ending up in the Air Jump competing for his position.
Heather Mills was brought back in and on the slalom went up against Tamara Beckwith, this looks like a rivalry to watch as both celebrities are pulling no punches with each other. Heather was an early elimination on last years The Jump so she had everything to prove this time around, and did so in a close finish just ahead of Tamara.
The comic relief of the show was the loveable Arg and his new comrade fellow Londoner Joe Swash, we were sorry to see Mark Francis go as his satirical wit and quick remarks gave the show another element of humour. However due to injury he has had to bow out of the competition.
Arg and Sarah Harding went head to head on the slalom, a nail biter for all watching as Sarah is becoming one of the people's favourites with her competitive edge, her humour and her style, whereas Arg is a big hit for being a very loveable and friendly guy. Sarah won the slalom with ease and was just gliding over the finish line when Arg fell in true comedy style lifting his head to show a Father Christmas like covering of snow on his face. Once it was clear he was safe Sarah and Davina urged him to complete the course.
Unfortunately his 'Cool Running's' Olympic attitude couldn't save him from elimination the second week in a row as he was the lowest on the air jump.
Season 3 of The Jump
Season 3 of The Jump is the most exciting and talked about season yet, it is clouded with controversy from injuries to choice of contestants, but overall people are hooked.
We have no doubt the coaches and safety measures are doing everything they can to keep the celebrities safe. WE cannot wait for the next episode of The Jump.
We have also heard that Beth Tweddle has taken some steps after her neck surgery and everyone is routing for her swift recovery.