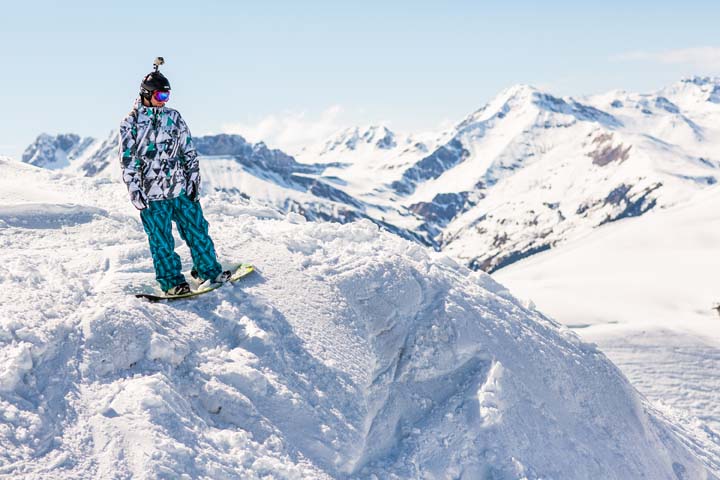 When Lilah Parsons, MTV presenter, former Chanel model and just generally cool person, stepped out at Mayrhofen's Snowbombing festival last week all eyes were on what she was wearing. This is Snowbombing. It's the festival where people stay up all night dancing crazy and drinking copious amounts of Jaeger to the world's biggest DJS, but are then on the slopes three hours later shredding to their heart's content. And when it's too dark to ski or board, it is back up the lift to hit the music venues located at 2000m, and consequently in sub-zero temperatures.
With the constant movement between slopes and dance floor, there's no time to worry about all your different 'festival outfits' that the likes of Sienna Miller may fret over at Glastonbury. With the threat of hypothermia kicking in as you dance away to The Prodigy and The Chemical Brothers, you can't be in the standard festival go-to outfit of denim hotpants and a tie-dye vest. When it comes to what to wear at a dance festival set in the Alps, MTV will path the way. Lilah Parsons certainly set the perfect example for Snowbombing's go-to festival outfit: she donned a pair of our S'No Queen thermals.
Now, thermals are a definite tick in the box when you know that the itinerary for the day involves shredding in the sunshine and gazing at stars at night, with a Jaegerbomb in hand of course. Yet, you'd think to wear your thermals underneath something right, because thermals on their own just don't usually scream 'festival chic'? That was until S'No Queen hit Snowbombing and the festival circuit. S'No Queen thermals are base layers that you'll want to be displaying proudly. Lilah definitely did, matching her Very Berry thermal top with her maroon salopettes. In bright colours and decorated with crystals, these are thermals that can match the rest of your cleverly co-ordinated outfit, or outshine even the most mental strobe lighting at 3am.
And as S'No Queen thermals provide that snugness that you need when dancing in the Ice Bar or at the Arctic Disco, (it's an igloo made entirely of ice), they also project an all important sexiness. Lilah Parsons glided around Snowbombing in base layers from S'No Queen's 'Striptease' collection.  They say that a key part of wearing a sexy dress is to make others imagine themselves undressing you to reveal what's underneath. Until now, thermals have not been associated with teasing one into revealing anything more than the base layer on display.  Although thermal dresses are yet to be created, it's not just long-sleeved tops and leggings that S'No Queen has to offer. In the collections from S'No Queen, bling polos, zip hoodies, V-necks, crystal-encrusted harem pants, onesies and headbands create a mystique that means that you can dance the night away while conveying that 'Striptease' sexiness.
There's an understated aspect to S'No Queen that creates a stark contrast to the flipside of festival goers. The UK festival circuit sees Kate Moss in effortless cool versus the reality TV stars in their 'try too hard' teeny bodycon dresses. The understated elegance of S'No Queen's collections places the likes of Lilah Parsons in a totally different league from the girls desperate for attention, strutting around the snow in only bikinis. As the literally cool girls grit their teeth to stop the shivering, the coolest girls know that it's sexier to stay snug in crystals. As MTV, and girls in the know, realise, it's the bomb to be seen wearing S'No Queen.