Ski Fashion 2019 – The Latest Ski Thermals From S'No Queen

Winter Fashion 2018 to 2019 – What's New from S'No Queen?
At S'No Queen we're never caught resting on our laurels and ready for the start of the 2018/2019 ski season, we've been busy working with our designers to bring you ladies ski thermals in colours, designs and materials which are as new and fresh as the new season's powder.
New Ski Fashion 2019 from S'No Queen
The Follie Collection
We know how hard it is for a S'No Queen to find her handsome prints, so this year we've made it easy for you all and introduced several designs for you to choose from.
Using the latest digital sublimation print technology, our Follie Collection now incorporates a much wider range of incredible printed designs to make you stand out at the Apres as well as stay warm on the slopes.
We've added a touch of fire to our ever popular Cable Zip Polo and this chunky knit print is now available in eye-catching red. The S'No Scene pattern depicts a delightful and surprisingly detailed winter vista
This season, blacks and whites will be seen all over the slopes and we've added the 'Sno Flake' pattern to your favourite ski thermals to make sure that you stay stylish this ski season.
Tiffany Blue
Vibrant, bright and minty fresh, your 2019 ski thermals will keep you warm, comfortable and undeniably stylish. Enjoy your breakfast in our Tiffany Blue, our freshest new colour and remain warm and confident throughout the day.
Double Striper
Our double striper collection is all about contrast. With versatile inky black set against a contrasting colour and a scattering of our signature sparkles, there's never been a better way to
show off your understated style.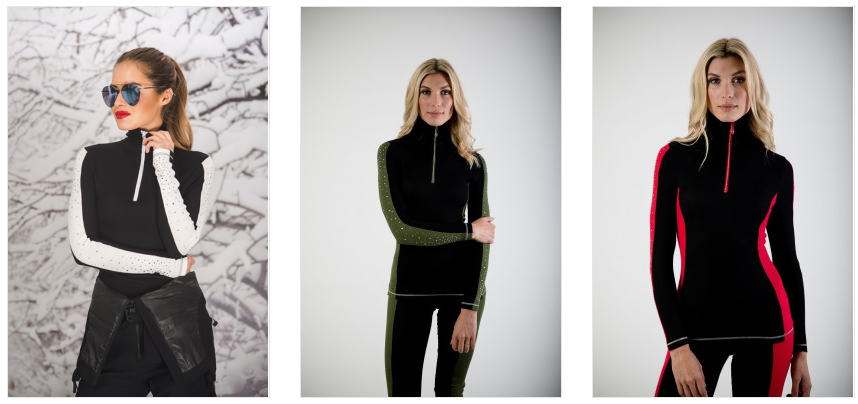 The 2019 Ski Season – Thermals you want to be seen in
The 2018 to 2019 ski season promises to be spectacular, so before you make your triumphant return to the slopes, make sure you pack your case with thermals which make you feel as fabulous as you look. Ski Fashion 2019 – Prepare to turn heads!
Shop now and prepare to look spectacular!