What are the Warmest Base Layers for Skiing?
Base Layer Buying Guide
Choosing the warmest base layers for skiing or winter activities can be hard to do, there are so many options, so here is our guide to buying base layers.
If you are new to skiing or even winter travel and outdoor sports then it can be difficult choosing the right base layers. Often if you are new to winter activities and skiing it can be tempting to buy cheap thermals but this can often be a false investment if you are spending a lot of time outdoors in the cold weather.
Base Layer material
Merino Base Layers
Merino is a type of wool and is popular due to the fine fibres offering excellent heat retention without being too thick, the fibres mean that it is very breathable allowing sweat vapours to escape keeping you dry but still warm. The soft wool allows movement so you have the freedom to perform better on the slopes, riding your horse or whatever activity you have chosen.  Merino wool has a naturally occurring lanolin and keratin wax produced by the sheep, this means that it is naturally antibacterial and antimicrobial so you can wear the base layers for a few days and still be hygienic.  The wool does need to be treated carefully as can sometimes lose its shape in the wash.
Synthetic Polyester Fibres
Synthetic base layers are usually polyester or polyester blends, they are usually a bit cheaper than wool base layers but don't always tend to be as warm, this is fine for Spring Ski but if you are skiing in some of the colder regions this may not be enough, they are very popular for hiking and winter activities. Polyester blends have good breathability and moisture-wicking, they are quick-drying, so you don't get too sweaty.
Our S'No Queen synthetic base layers are made from 85% polyester and 15% elastane, we add a soft brushed 2-way stretch which gives great UV protection, our Zippee tops are made from this fabric and are ideal as spring apres ski wear but we don't recommend them for under your ski clothes. This is a heavier fabric and we recommend our S'No Queens size up for this material. The leggings in this material are a tight fit but extremely flattering as athleisure wear leggings but not as long johns or thermals.
S'No Queen Base Layers
S'No Queen base layers are made from a unique silk blend which makes them softer than merino and also warmer than polyester. They are made up of  80% Micro Modal, 15% Silk, 5% Lycra, Lenzing Fibres Micro Modal gives a super softness that is kind to even sensitive skin. We make our technical fabric to have a special rib structure that traps air between layers to boost the thermal properties. Silk is a natural thermal which adds extra warmth and gives a luxurious feel. The fibres wick moisture away from the body keeping you fresh and dry and keeping its shape after lots of washes.
S'No Queen base layers are the warmest base layers for skiing or any other outdoor winter sport, they are also made in flattering and stylish designs to be worn as a fashion top as well as a base layer.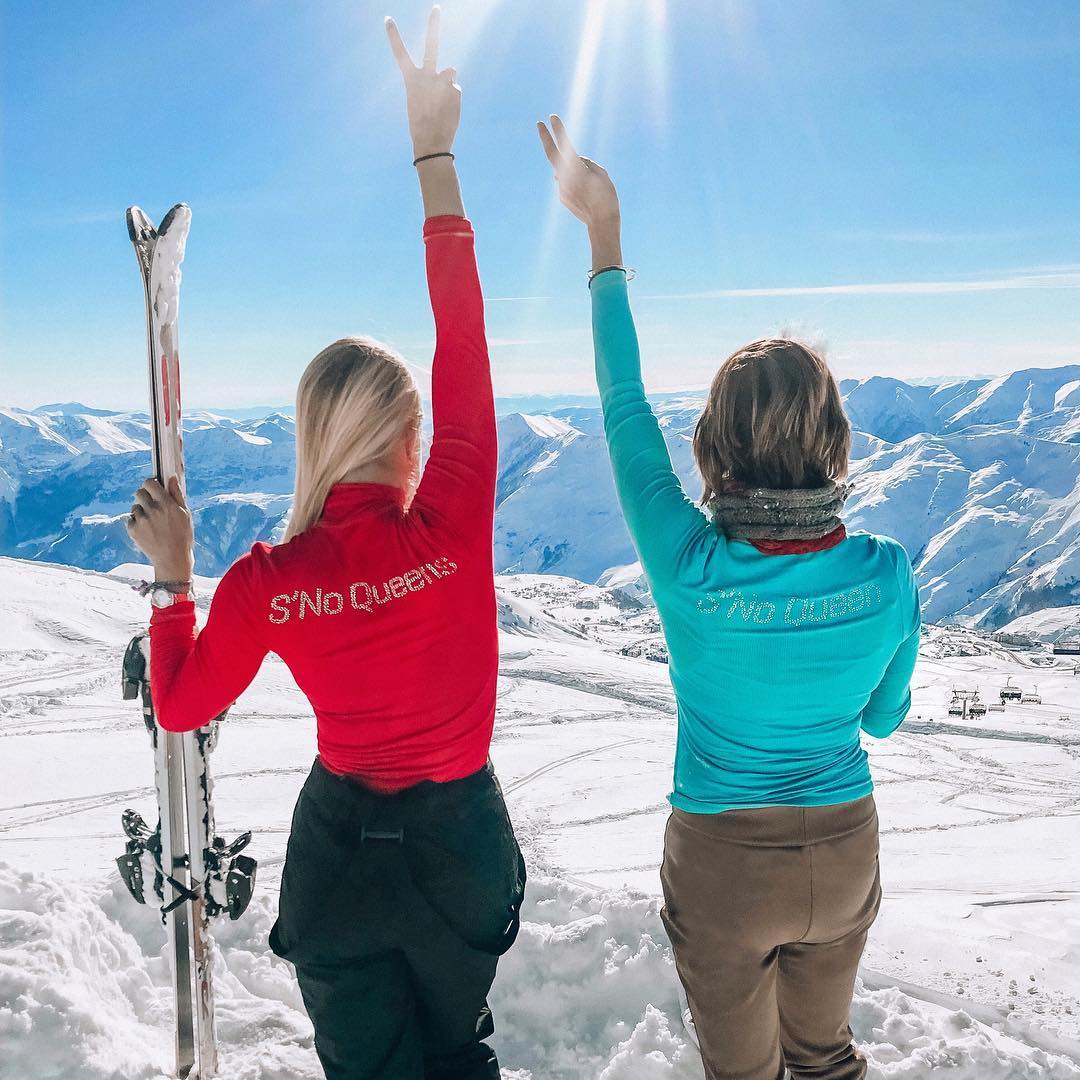 Fit
Your base layer should be close-fitting and comfortable, a close fit will trap air and wick away moisture keeping you warm but not overheating when doing exercise. A flattering fit means that the base layer will look great as a stand-alone top as well as a thermal base layer.
Tops
Your base layer top should cover you completely from your neck to your hands and be able to be tucked into trousers or outer layers. When picking a base layer choose your normal dress size as they are made to be snug therefore you don't need to size down. You can also check out our size guides for more information.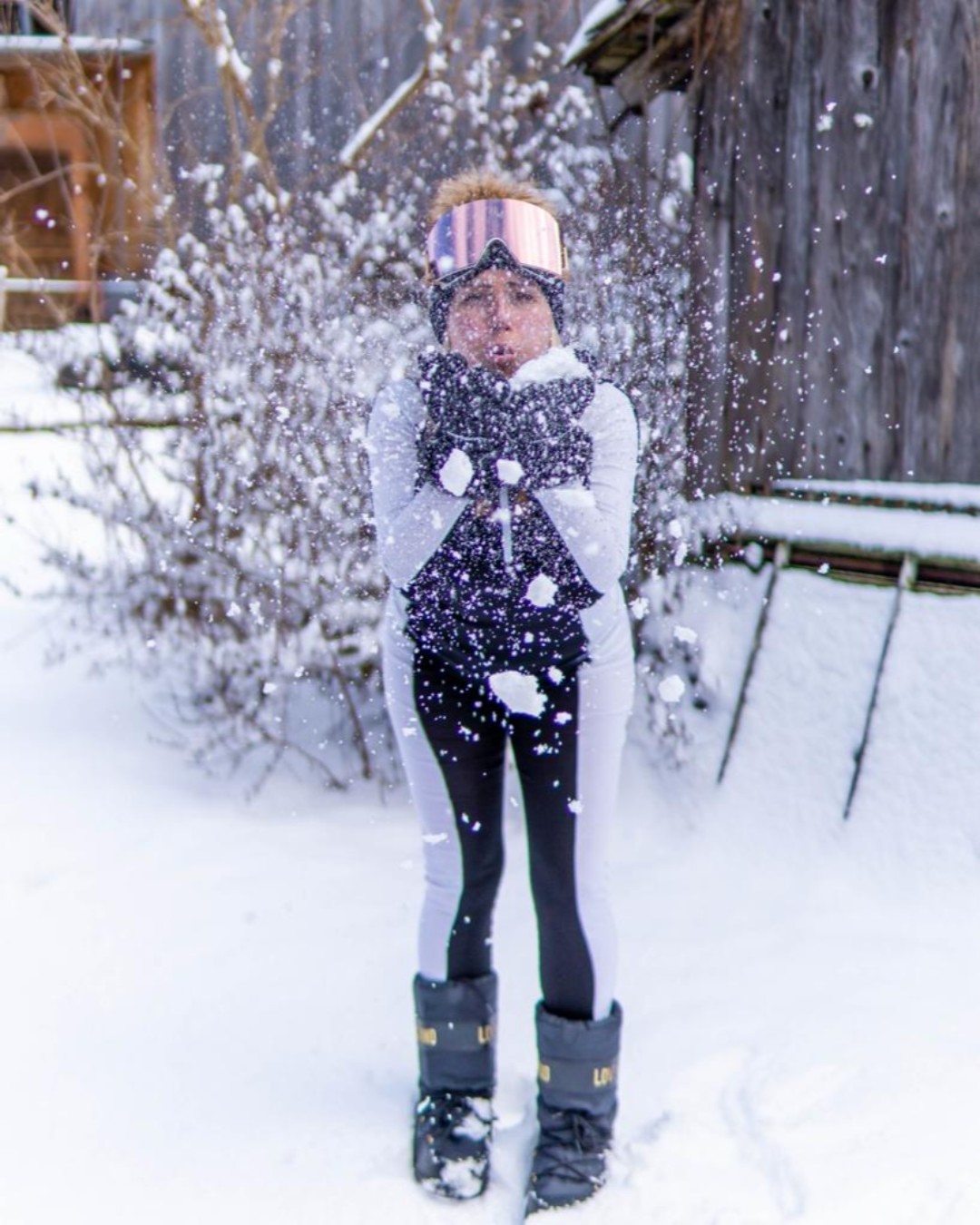 Leggings/Long Johns
Base layer leggings and long johns are a close fit, these are designed to hug your body and be long enough to reach your ankles, many will have a high waist to add extra tummy support and warmth and have a flattering fit.
Layers
Layering your baselayers and clothes will add extra warmth and trap extra air. When choosing a base layer, most materials will offer a variety of warmth but you need to make sure they have good ventilation, such as a zip or mesh panels. These will help keep airflow consistent and your body temperature stable, whether you are waiting for the lifts or working hard on the slopes.