Tips for Backcountry Skiing
Backcountry skiing is known for being a notoriously difficult sport and in turn a lot of people can have a try at it, fail and become injured very quickly. Therefore, S'No Queen have brought some small general tips to be able to help you start on the right foot and prevent injury, however please do not attempt backcountry skiing without an instructor if you do not have significant skiing experience.
Train Endurance
Endurance training is key if you are wanting to try backcountry skiing. The backcountry in the Alps and North America can be a very tiring place and with an onslaught of obstacles and other things to wear you down and tire you out, it is important to have significant endurance training before even attempting the smaller trails.
If you think you have enough endurance then it is important to attempt one of the smaller tracks first, plan a small route and work your way up to a more challenging level to be able to know where you stand. The last thing you want to do is find yourself 5 miles out exhausted and struggling to go on as that is very dangerous, foolish and will result in your not enjoying your trip.
Plan Your Route
When it comes to back country skiing, it is not an activity you can simply have a try with and hope for the best, it requires careful planning to be able to ensure you are safe throughout your experience. Plan a small route, ensure its nothing to challenging for you, and slowly begin to expand your route. You should seriously consider two safety precautions if you are heading out on a larger route having worked your way out:
Firstly, when you plan your route, give yourself approximate periods of time with a slight leeway and let somebody know. This ensures that if you are running extremely late people can come and search for you on your route and hopefully find you unharmed.
Secondly, if you are route is extremely long, you should consider short cuts back to your resort in case of weather changes, exhaustion or emergencies. Consider planning a route, which works in a huge circle so anything past one third of the route can be short routed back to your resort and the trip can be ended quickly if needed. Then ensure to make sure you tell people of your short cuts in case something was to happen.
Sort your Inventory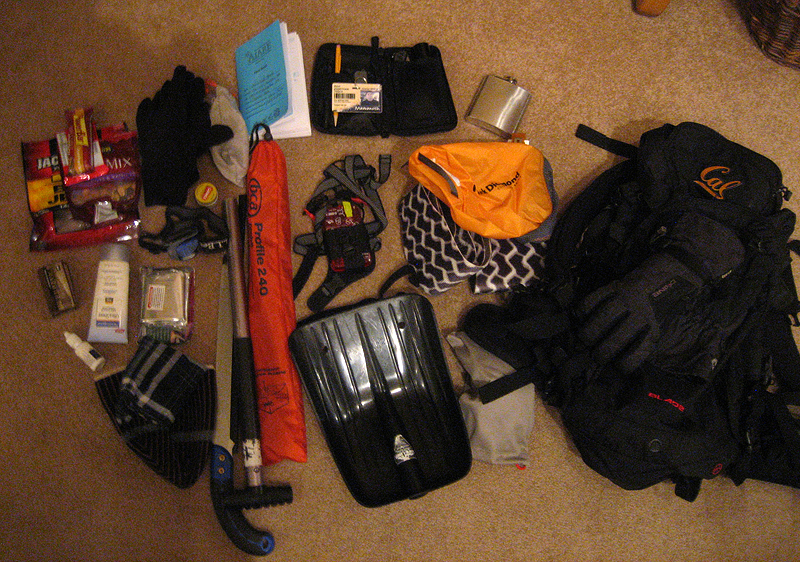 Packing for a backcountry expedition means you need to ensure you have everything you need. A shovel, probe and a transceiver work hand in hand and in turn should be within easy reach of you in your pack along with any other emergency supplies such as first aid kit ect. Then your food and drink should be the next thing in your pack so that you do not have to stop for too long emptying your bag on snack stops. Try packing very lightweight snacks such as flapjacks or chocolate due to its high carb and calorie amount accompanied with its low weight.
Finally, you need to ensure your bag has an ABS system to ensure that if there is an avalanche, you can rest assured you will be okay. Once you are sure that your bag has an ABS, you need to ensure that nothing you have packed is obstructing the ABS and in turn could cause it to not inflate or pop when it is loaded.
A number of novice skiers seem to strap coats and other equipment to the top of their bag that makes the ABS dangerous as the metal equipment could be forced into your head if the ABS is used and the jacket could cause the ABS to pop and in turn result in you becoming buried.
Learn Manoeuvres
Learning all the appropriate movements before heading into the backcountry is necessary if you want to ensure you can travel efficiently when you are out in the wilderness. Everything from the turns you take to climbing up hill becomes a lot more difficult in the deeper snow and in turn its important to practice either on the resort or just outside the resort boundaries so that you don't fall and become injured miles out or don't become stranded along cliff sides or deep forestland.
If you take a class to learn these manoeuvres you will also learn other things such as not to follow frozen tracks on ridges and to walk above any tracks you see for the more secure snow. These classes are worthwhile as they teach you some very unique and professional tips that could result in you preventing an injury out in the wilderness.
Remember that if you are heading out to the backcountry, you could be there for hours or even days in some cases, (if you are into exploring) so it is important to dress well to maintain heat. S'No Queen thermals are durable and warm to be able to maintain heat throughout the expedition and in turn should be your first port of call for Ladies Thermal Wear.