Europe's Coolest Ice Bars
Here at S'No Queen our designer thermals aren't just designed for ski holidays, We know there are lots of exiting places to wear them. So we are going to run you through some of the coolest ice bars in Europe for you to visit in you winter thermals. There are some fantastic ice sculptures, sexy vodka cocktails, and Siberian-like temperatures – the ice bars in Europe take "chill" to a whole new level. So here are the very best cool drinking establishments where everything is made of glittering ice.
ICEBAR LONDON, London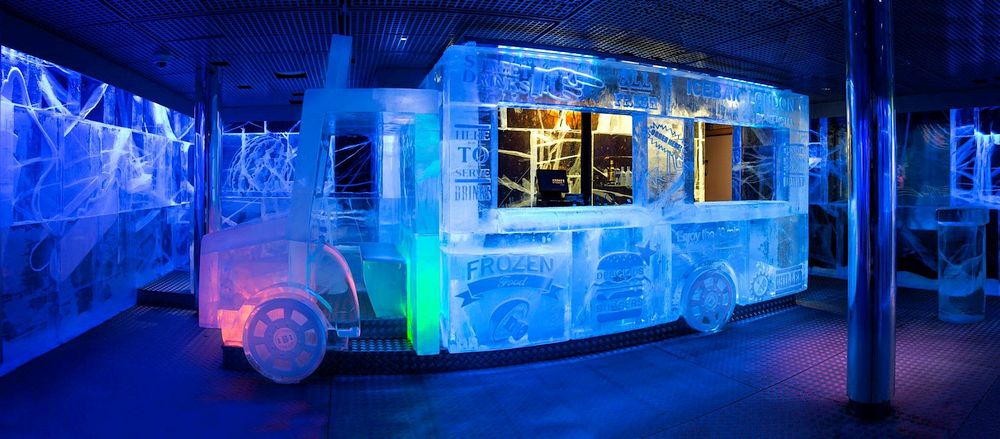 As soon as you enter the this bar you will find yourself surrounded by ice walls, ice furniture, and majestic ice sculptures. Situated on Heddon Street, the stylish locale made of crystal clear river ice from Sweden changes its appearance once a year, courtesy of a team of skilled ice designers and sculptors. During their 40-minute experience inside the ice bar, visitors are provided with designer capes and gloves to keep them warm while enjoying sophisticated cocktails. A gift shop and a lovely restaurant serving modern British cuisine are also on-site.
ICEBAR by ICEHOTEL, Stockholm
This is the first permanent ice bar in the world. Part lounge, part art gallery, the impressive venue features a stunning new design each year. The current theme is inspired by Swedish novel "The Wonderful Adventures of Nils" by Selma Lagerlöf. The interior is made entirely of ice brought here from the Torne River in northern Sweden, and the entrance fee includes a drink and plenty of fantastic sculptures to admire.
ICEBARCELONA, Barcelona
This is not only the world's first beach ice bar but is a truly one-of-a-kind experience, offering visitors the chance to go from glorious Mediterranean sunshine to a frozen world in a matter of minutes. Designed by famous ice artists, the striking lounge boasts mesmerizing interiors carved out of ice and renewed every so often. Additionally, there's a sleek outdoor terrace where you can bask in the sun and enjoy the warm sea breeze whilst sipping your favourite concoction.
ICEPUB PRAGUE, Prague
Situated in the heart of the Czech capital, inside the largest nightclub in central Europe, this bar allows visitors to sip delicious vodka cocktails at a temperature of -7 °C. Inside, everything from the décor to your glass is made of ice, so it comes as no surprise that every customer receives a thermal jacket and gloves at the bar's entrance.
 Ice Kube Bar, Paris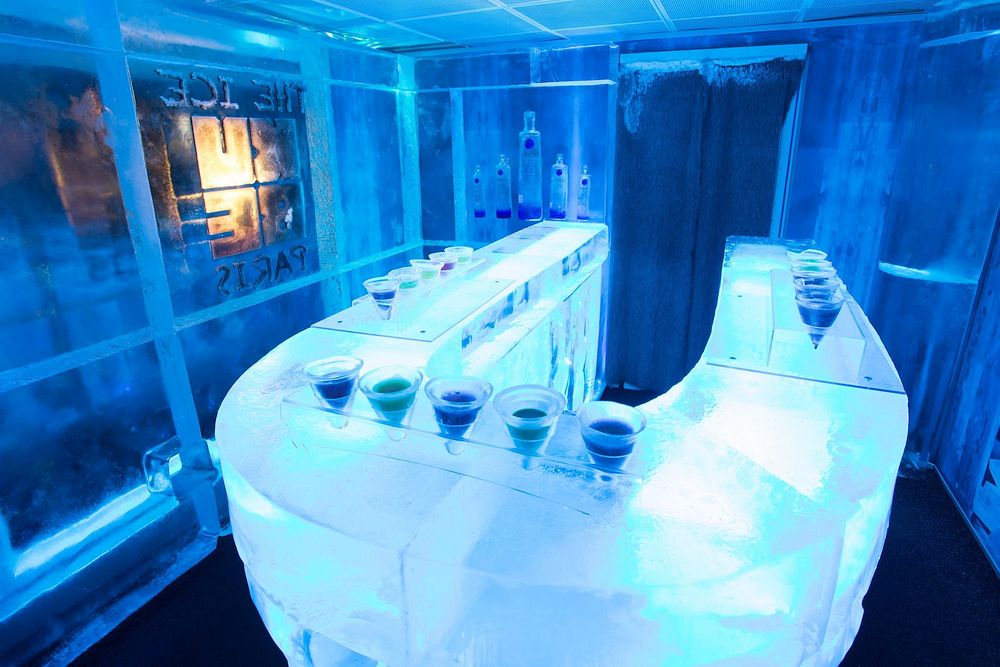 Situated on the first floor of the hip Kube Hotel in Paris, This bar comes with surreal interiors by Michel Amann, the world champion in ice-carving. The experience is limited to around 30 minutes and includes everything from spectacular ice artwork and cutting-edge lighting effects to tasty vodka-based drinks, excellent music, and Siberian-like temperatures. The ice bar's atmosphere is as hip and stylish as its exclusive clientele.
Ice Club, Rome
Conveniently located near the Colosseum in Rome, this is an ideal location to cool off after taking in the sights and sounds of Italy's monumental capital. Everything in the bar is made of pure ice from England and the temperature is maintained at -5º C. Guests are welcomed with scrumptious vodka-based cocktails, plush white furs, and synchronised sounds and lights.