Le Chardon is a bespoke Chalet hire company who hire out amazing high-end cabins looking out over the prestigious Val d'Isere skiing resort in the French Alps. The five star cabins themselves have been host to many a celebrity over the years and carry an infamous reputation across the luxury skiing community.
Le Chardon told their clientele all about S'No Queen and explained how the S'No Queen Thermals were a must for any skier who believes in fashion and luxury. They told the world how our thermals are as important as the equipment its self when it comes to a skiing get away and how they are needed to feel comfortable and warm on the slopes.
We are so proud of Val d'Isere's most prestigious resort showcasing our wears and boasting their chic and stylish manner to the world.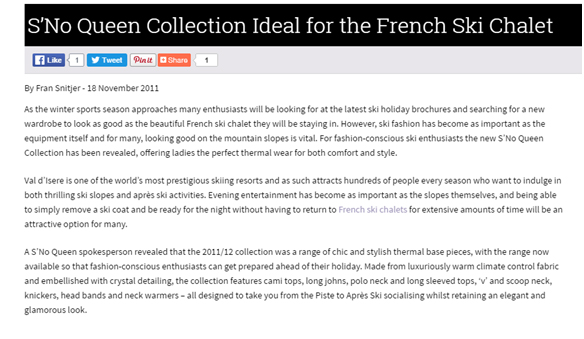 Source: http://www.lechardonvaldisere.com/sno-queen-collection-ideal-french-ski-chalet/