Ski Fashion 2019 – The DoubleStriper Collection
DoubleStriper – Doubly Delicious
Double down on the style for the winter 2019 ski season with the DoubleStriper Collection, exclusive to S'No Queen.
Another of our new collections and featuring the same technical thermal performance and unrivaled style you've come to expect from S'No Queen, the DoubleStriper Collection combines the classic elegance of our black ski thermals and adds vertical coloured contrast stripes for a sleeker silhouette as well as feature stitching on the hems and a scattering of glittering sparkles on the sleeves.




The thermal tops from our DoubleStriper collection are available as either crew neck tops or zip polos. The zip polo's, as with those from our other collections incorporate a feature zip, encrusted with shining diamantes to catch the light and catch the eye of admirers.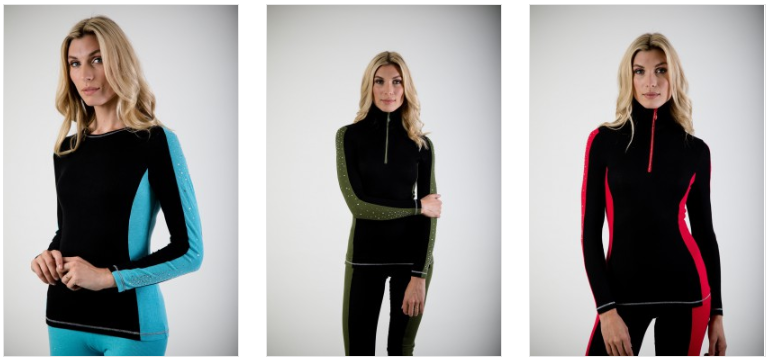 Double your Ski Fashion Choices
The DoubleStriper collection, as well as offering  bold contrasting colours, is made to coordinate with other S'No Queen winter thermals in your ski fashion collection, allowing you to mix tops and bottoms from our other collections while still coordinating perfectly, giving you more ways to wear S'No Queen and turn heads as you do so.
As well as being high performance ski thermals and highly desirable Apres-Ski outfits, S'No Queen ladies thermals are just as warm and comfortable off the slopes as they are on them. Our versatile baselayers make for terrific stylish loungewear for relaxing at home, or to wear under a pair of jeans to help keep you warm while you're out and about. Once you've treated yourself to our winter thermals, you'll never want to take them off!
Order From the DoubleStriper Collection Today
Twice the colour, twice the contrast and twice the versatility, ski thermals from our doublestriper collection will certainly become go-to favourites in your winter wardrobe and are sure to keep you feeling good and looking good no matter what the weather throws at you during the 2019 ski season.
Browse the DoubleStriper Collection today!