Looks Of Ski Seasons Past
There are a few things better about Winter than when you go Skiing . We love how how ski thermals have changed over the years. Today we are going to look back at how the range of ski thermals has changed over the last century.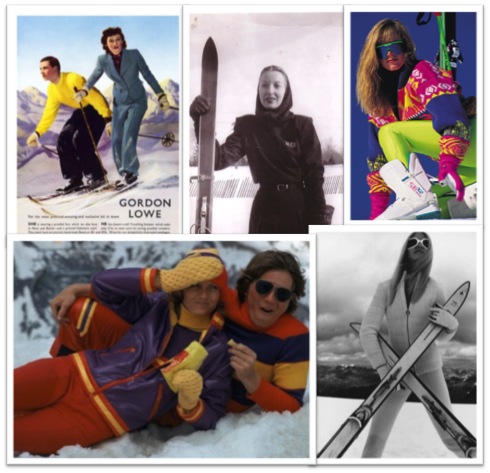 1920's
Skiing as a sport emerged in Northern Europe in the late 1800's, but it was not until the 1920's that its popularity was firmly established. Early women skiers wore divided skirts or knickers under tunics, or even under a skirt. But by the late 1920's, after skiing became an Olympic sport and was growing in popularity, women began wearing ski trousers similar to those being worn by men. These trousers were tucked into the tops of their boots and secured with gaiters. This was worn with a long matching jacket.
1930's
In the 1930's, women's ski thermals continued to be fashionable, but it was also functionable. With the introduction of lastex in the mid 1930's, knit bands containing the stretchy yarn were attached to the bottoms of trouser legs and sleeve cuffs. There was a craze for two-toned ski outfits, with the jacket and trousers being different colours. Most of the ski thermals of this time were made of a heavy wool, and they were often lined in cotton flannel.
An interesting development during the late 1930's was the ski skirt, especially since women had pretty much worn some form of pants since the early days of sport skiing. It became obvious that the ski skirt was for experts only, and sure enough, on some slopes it was a badge of the expert. When you look back now you really do realise how lucky we are to have women's ski leggings available to us now.
1940's
In the early 1940's, ski thermals became more streamlined due to the fabric shortages after the war. This trend continued into the late 40's, when ski pants, now more commonly made from wool gabardine, became much slimmer, and often had zippers in the lower legs to allow for better movement on the slopes. Gabardine ski suits were often two-tone, and the jacket was commonly reversible with one side matching and the other side contrasting with the pants. Colours during the end of the 40's were generally somber – browns, greys and dark blues – but were accented with bright yellows, oranges and reds.
1950's
After the war, skiing continued to grow. In 1950 ski wear maker Claus Obermeyer of Austria introduced a quilted parka that had insulating layers. Wool was no longer a necessity, as the outer shell could be made from the new, fast-drying nylon. During this time colour became more important. Emilio Pucci began his long design career by designing colourful ski ensembles for White Stag in 1951. Another important development was in 1953 when Munich-based ski wear maker Bogner introduced stretch ski pants with a stirrup at the hem.
1960's
Through the 1950s and 60s, ski clothing manufacturers experimented with new, lighter fabrics that were also warm. Ski clothing became lighter and more fitted to the body. It also continued to be very colourful.
1970's
By the 1970s wool was rarely used in ski clothes, as synthetics ruled the day. Ski wear crossed over into street wear with quilted nylon ski jackets with zip-off sleeves that converted to vests becoming fashion items. This was the turning point as you see now ski thermals are also known as just winter thermals. You don't need an excuse anymore to wear nice comfy thermals.
1980's
In the 1980s, ski thermals was often indistinguishable from street wear as stirrup strap stretch pants and big shouldered anoraks were spotted both on and off the slopes. Today, there is a huge contrast between what competitive skiers wear, and what recreational skiers wear. There is no one "ski uniform" like you would have found decades ago.