Lockdown and restrictions in the UK (and all over the world) has interrupted fashion, the trends we thought we would see in 2020 and 2021 have been replaced with comfortable loungewear and versatile athleisure. Instead of party dresses and going out clothes the fashion trends for 2021 have moved to warm, cosy, practical but still special clothes. Loungewear and athleisure wear are the biggest fashion trends for 2021, being able to combine comfort with style and practicality is important for fashion conscious buyers.
Loungewear fashion
With instructions to stay at home, loungewear fashion is the most popular trend we are seeing. The comfort of home loungewear means people can relax at home, feel comfortable and still look good on those zoom calls with friends or work.
Leggings
Loungewear trends have varied as fashion manufacturers have risen to the challenge but the staple piece in any loungewear wardrobe are leggings. Leggings can be paired with anything and feel lovely and comfortable to wear all day. Some S'No Queens have done amazing in lockdown, staying active and keeping in shape but at S'No Queen HQ working from home has meant some jeans have become a bit more snug for some of us and as such leggings are a comfortable and forgiving option for loungewear.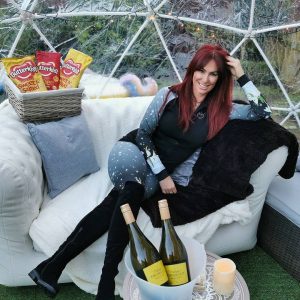 Loungewear Tops for video calls
Under lockdown, loungewear has to be versatile, comfy for the home but when socialising and keeping in touch with friends online for video calls you still want to look nice. Polo tops in the lacier and Gemini range look amazing on with their metallic shine you will look stunning on your video call.
When working from home you may have to make video calls to have meetings with colleagues or clients, we would recommend any of our classic or Twist tops for a working call. Comfortable and flattering our polo tops and zip polos look professional with a little bit of sparkle to add some positivity to work from home conditions.
Athleisure wear in lockdown
It is important to stay fit and healthy, this is good for your overall health and your mental health during these difficult times. You are allowed to exercise outdoors and even meet one other person to do this, so wearing suitable clothing is very important.
S'No Queen tops and leggings are made from technical fibres and a silk blend mix, this means they have thermal qualities for comfort and performance. You can wear S'No Queen athleisure tops and leggings in the cold January and February months and stay warm. The technical fabrics are made to keep you warm but not overheat so no matter how hard you work you won't overheat and can wear even when the weather gets warmer.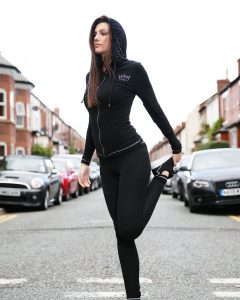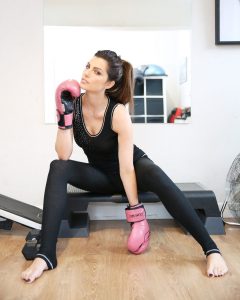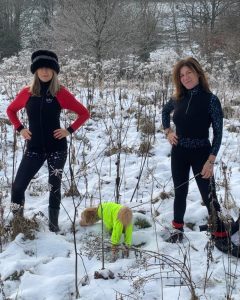 S'No Queen clothes are made to last, we don't believe in fast fashion but believe in giving you quality clothes you can wear year after year, they are washable without losing their colour or fit.