Layering for Ski fashion – Combining style and Comfort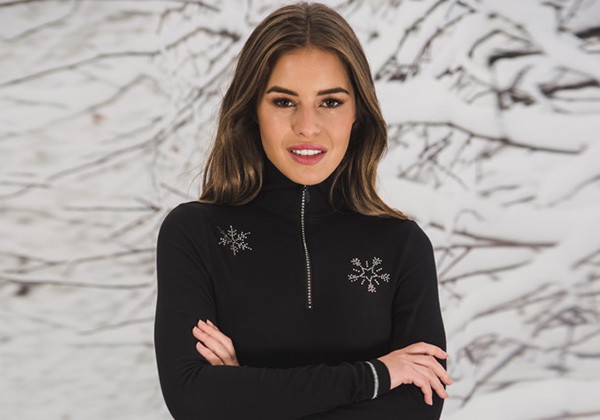 Getting your ski layers right for the new season
Dressing for a day on the slopes is an art form. Those new to skiing might simply think about wrapping up warm, but experienced S'No Queens know that layering is the best way to dress for success, starting with designer ski thermals and working up.

Skiing and Layers – Avoid being too hot or too cold
Skiing requires snow and snow is cold, so there's no argument that, you'll need some warm clothes, but skiing is exercise, which increases body heat, so you can't overdo the warm clothes or you'll be too hot.
Exercise and heat make you sweat, which will make your clothes damp. As well as being uncomfortable, this combined with cool air can cause you to lose body heat extremely quickly.
Counter to this, being at high altitudes, sometimes above the cloud layer, means that the even in the winter, the sun can still be hot.
It's clear that maintaining a comfortable temperature for skiing isn't as straightforward as a non-skier might think and why layering is so essential to your winter wardrobe.
Thermal BaseLayers
Sitting against your skin and the first layer keeping out the cold, the skiing baselayer should be figure hugging in order to help you keep your temperature under control by trapping a thin layer of air against your skin.
S'No Queen designer thermals are an unbeatable baselayer. They're flattering and figure hugging, made as they are from special fabric blends which allow stretch without sagging.
Our ladies ski thermals are also designed to wick away moisture from your skin, which means that as well as keeping you warm, they'll also keep you dry and comfortable no matter how energetically you ski. The perfect combination of performance and ski fashion.
Lightweight Mid-Layers
Sitting over your thermal baslayers, the mid layers trap even more air and add extra thermal properties beneath the outer layer. Just like your baselayers, it's important that the mid-layer is lightweight and stretchable, without compromising on heat retention.
Waterproof Outer Layer
The final layer, your outer layer, is your first line of defence against the cold an wet of the snow on the mountain. Your outer layer consists of windproof, waterproof, ski jackets and trousers, either as separates or a one-piece. With an additional thermal layer incorporated, the outer-layer keeps the damp out and the heat in.
Layering and Skiing – Adding warmth without adding bulk
Having the layers is one thing, using them correctly is another. It's important to take a small rucksack or similar on the slopes with you, so that you can remove and store layers when you're too warm to wear them all, while still giving you the option to put them back on when you need to.
Adding layers to add heat, is important but so is being able to move freely when you're skiing. For this reason, no matter which layer you're choosing, make sure you invest in ski layers which are lightweight and made from material which won't restrict your movement. Ski Fashion is no good if you can't ski in it!
There's nothing worse than trying to ski in heavy, bulky ski-wear. So spend a little extra and invest in a better ski wardrobe for your 2019 ski holiday.
Layering up and looking great – Ski Fashion for the 2019 Ski Season
If only every ski layer was as warm and stylish as S'No Queen designer thermals. The pistes of the world would look like a catwalk for sure.
Thankfully your stylish, sparking baselayers are only hidden on the slopes, you're free to show off your style when you make it to the apres, throw off your outer layers and turn heads after an exhilarating day on the mountainside.
Check out out latest range of stylish, fashionable  ladies ski thermals and make sure that you look as good as you feel on your next ski holiday.