Apres Ski Fashion – Be Bold in the Cold
 
Apres Ski Fashion 2020 – The only scene to be seen in
Whether or not you're a veteran of the slopes, you'll know that skiing is only part of the ski holiday experience.  The Apres scene is as much a part of a skiing holiday as skiing itself and an important part of the Après scene is looking great even after a long day spent downhilling.
When you spend the day hurtling down the piste at breakneck speed, having the time of your life, who wants to wait until you get home to share your stories? That's why there's an Apres in the first place – Getting together with a lodge full of the like-minded to share stories of your adventures with breathless excitement. Winding down and warming up with the de-rigueur drink of the day and of course looking absolutely fabulous while dressed from head to toe in the latest Designer ski thermals from S'No Queen is what it's all about.
So what delights does Apres Ski Fashion have to offer this season and what are the winter fashion must-haves for the style conscious?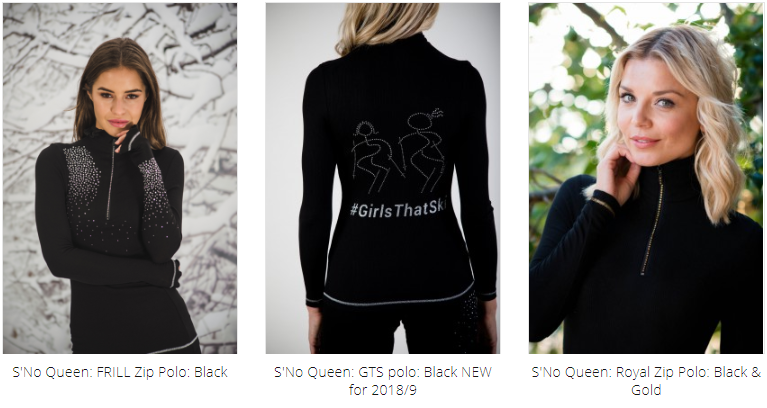 What's trending for Apres Ski Fashion 2020?
Winter is, hands down, the best season, of the year. It brings with it the best fashion and and those of us who ski have the best place to wear it – the Après. But what styles are we seeing dominate Apres Ski Fashion 2019?
Last year we predicted that that, cylindrical ski goggles would be back in vogue for the 2019 ski season. No doubt S'No Queens will have spotted an increase in wraparound eye-wear on the slopes. It's a great look and even mainstream fashion is picking up on the trend judging by the increase in regular sunglasses mimicking their design.
Speaking of Vogue, have you spotted all the wonderful, eyecatching, colourful balaclava's predicted by Vogue magazine? We've certainly seen a few already this season – will you be keeping up with Apres ski fashion and donning your own?
Finally, you can't help but notice that prints and monochromes are the overwhelming choice of the discerning fashionistas this season. We've certainly noticed that our ladies ski thermals in black have been even more popular than usual and that our very latest printed designs from the Follie collection have been surefire hits with style conscious S'No Queens!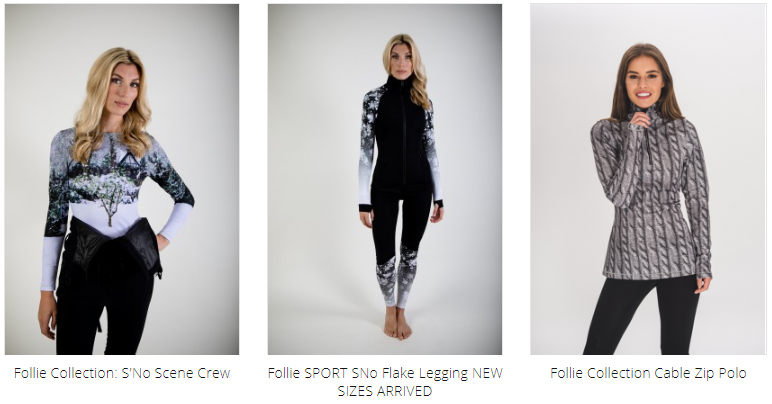 Feel Great and look Fabulous With S'No Queen Apres Ski Fashion 2020
Fabulous, fashionable, functional and fun – when the best pieces in your winter wardrobe tick all of those boxes, you won't want to keep them under wraps in the Après-ski.
S'No Queen designer ski thermals are made to keep you comfortable on the slopes as well as make you impossible to ignore at the Après afterwards, making them the perfect ski fashion accessories for any ladies who can't make their mind up between feeling warm and looking hot – with S'No Queen, you don't have to choose, both come as standard!
Check out out latest ski fashion collections and find out for yourself why S'No Queen are the thermals you want to be seen in.